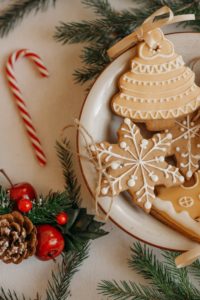 It's not unusual to gain a little extra weight during the holidays, but your oral health can also suffer. The next few weeks can be bad for your smile in many ways if you aren't careful. Here are 5 reasons the holidays can harm your dental health and what you can do to protect your pearly whites.
1. More snacking throughout the day.
As you gather with friends and family, you'll be surrounded by many seasonal dishes, sweets, and snacks, which means your teeth will be exposed to cavity-causing bacteria more often. You can keep tooth decay at bay by brushing after every meal. If you can't get to your toothbrush, chew sugarless gum to increase saliva production to help cleanse your mouth.
2. An abundance of sweet treats.
Candy canes, cookies, and other sugary treats are everywhere during the holidays, which can increase your risk of cavities. It's best to limit sugar, but if you can't resist your sweet tooth, choose chocolate over hard or sticky candy because it rinses from teeth easier. Brush your teeth afterward or rinse your mouth with water to remove any residue.
3. Poor oral hygiene routine.
Life gets busier during the holidays, especially if you're traveling. As a result, it's easier to deviate from your usual oral hygiene routine, like not brushing before bed. Creating an oral hygiene kit with travel-sized products will make it easy to brush and floss, even when you're not at home.
4. Skipping routine dental appointments.
As you shop for the perfect gifts and plan tasty meals, it's easy to forget about your semi-annual cleaning and checkup. Plaque and bacteria can accumulate quickly, increasing your risk of cavities and gum disease. Not to mention, dental issues can go untreated until they turn into a big problem. You can avoid preventable oral health concerns and prevent a dental emergency from interrupting your holiday plans by maintaining your routine cleaning and checkup. Your dentist will remove any buildup and look for anything concerning to have a healthy, beautiful smile for the new year.
5. Drinking a lot of alcohol.
If you enjoy wine with dinner or alcohol in your eggnog, you're placing your smile at risk. Alcohol causes dry mouth, which creates the perfect environment for harmful oral bacteria to thrive. It's best to drink water whenever possible to keep your mouth moist and your body hydrated.
Invest in a Healthy Holiday Smile
The holidays don't have to come back to haunt your smile. Give your oral health the attention it deserves to safeguard your teeth and gums. With the right care at home and from your dentist, good dental health will give you one more reason to smile.
About Dr. Bobby J. Carmen
Dr. Carmen earned his dental degree while commissioned as a dental officer by the US Navy. He has regularly continued his education in advanced specialties, like prosthodontics, periodontics, dental implants, and much more. If it's time for your next cleaning and checkup, contact our office today for an appointment before the holidays.