Full & Partial Dentures – Norman, OK
Regain a Complete, Confident Smile
Your teeth are an important part of your overall health, confidence, and appearance. Not only can missing teeth make you feel self-conscious about your smile, but they can also increase your risk of oral health problems and systemic conditions. In fact, studies show that those with missing teeth don't live as long as people with a full set of pearly whites. Thankfully, Dr. Bobby J. Carmen can help you regain a complete, confident smile with dentures in Norman. Read on to learn more about these classic restorations and call us today to schedule your consultation!
Your Denture Options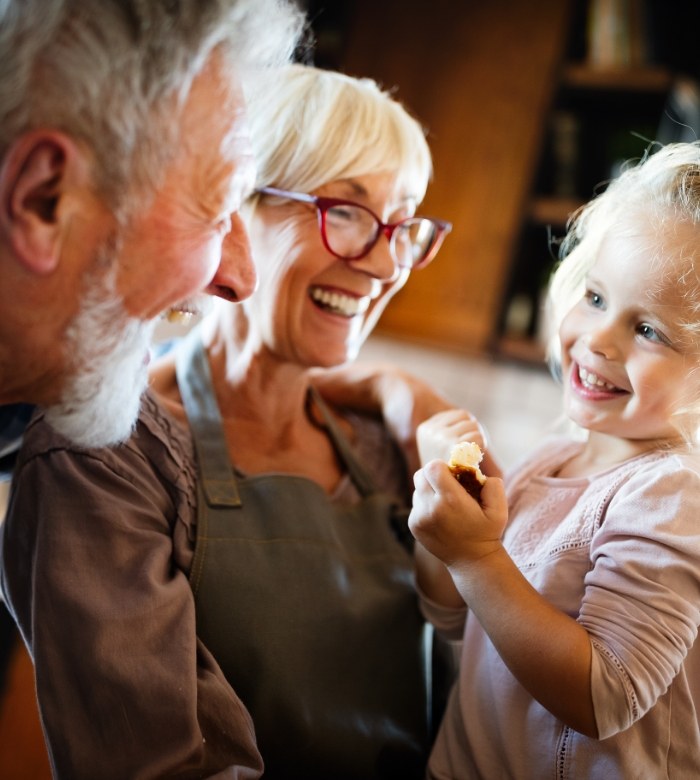 Did you know there are several different types of dentures? Depending on the extent of your tooth loss, you may benefit from:
Partial Dentures
Like a puzzle piece, partial dentures can fill in gaps between remaining healthy teeth. They're securely held in place with small, inconspicuous wires that wrap around your natural tooth structure.
Full Dentures
A complete set of custom-made ceramic or acrylic teeth set into a gum-colored base is called a full denture. Thanks to modern technology, these restorations are precisely crafted just for you, which forms reliable natural suction to hold your new smile in place.
Implant-Retained Dentures
Alternatively, you can anchor your dentures in place with dental implants. Small titanium posts are placed in your jawbone to form a sturdy and comfortable foundation that has the potential to last a lifetime. During your consultation, Dr. Carmen will help you determine if this option is right for you.
Benefits of Dentures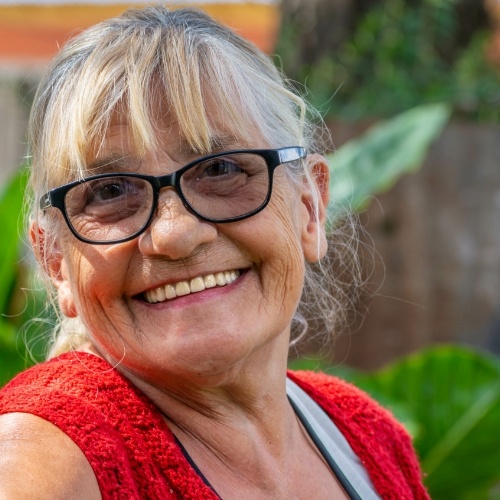 Improved appearance: Each denture is created with your specific needs in mind. This way, the results complement your facial structure and preserve your youthful, healthy appearance.
Easier day-to-day-life: With dentures, you can get back to eating a full, well-balanced diet as well as speaking clearly and chewing comfortably.
Quick, cost-effective treatment: Traditional dentures can restore your smile right away, and dental insurance will often cover at least part of the cost of dentures.
What's the Process for Getting Dentures?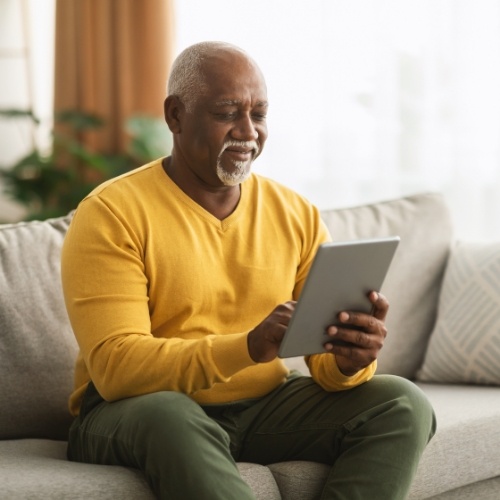 When you come in for your denture consultation, Dr. Carmen will discuss your vision of an ideal smile. After thoroughly examining your soft tissues and taking precise measurements, he may create a wax-up model that will allow you to preview the denture design. Then, highly trained artisans will handcraft your final restoration in a dental laboratory.
Am I a Good Candidate for Dentures?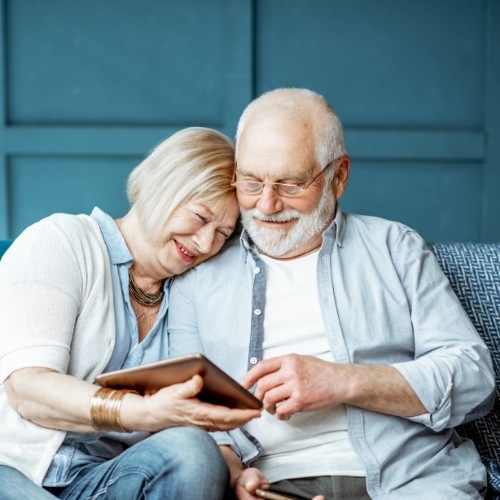 Nearly anyone suffering from moderate to severe tooth loss is a good candidate for dentures!
Partial dentures: You may be a good candidate for partial dentures if you're missing teeth in various places throughout your mouth and prefer dentures over other options like dental bridges.
Full dentures: A full set of dentures may be right for you if you have lost all or most of your teeth and have gums that are healthy enough to support your new smile.
Implant-retained dentures: Dental implants require a more involved process, so you'll need to be in good overall health, have no oral health issues such as gum disease, and adequate jawbone density.
Adjusting to Life with Dentures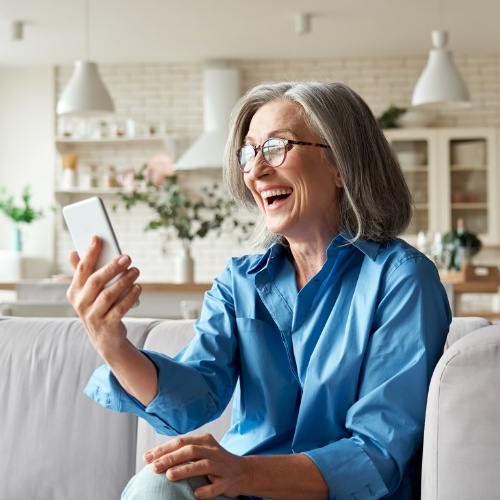 Dentures can restore your smile right away, but they take some time to get used to. Wear your dentures as much as possible to get used to eating and speaking with them. We recommend sticking to a diet of soft foods until you get the hang of chewing with your new teeth. You can use some denture adhesive to help you adjust and drink water or suck on sugar-free candy to combat the extra saliva you'll produce at first.
Understanding the Cost of Dentures
Whether you're treating your tooth loss for the first time or you need a replacement, it's normal to be concerned about the cost of dentures in Norman, but there isn't any reason to worry. Our office provides high-quality dentures at reasonable rates. We will help you find the solutions you need to enjoy a beautiful smile again without breaking the bank.
Factors that Affect the Cost of Dentures
There is not a set fee for dentures because every treatment is unique. Your denture dentist in Norman will evaluate your oral health and discuss your goals to design a personalized plan to rehabilitate your smile. We will create an estimate based on your requirements and explain how much you'll need to pay. There are various factors that influence the price, including:
Additional Procedures: It's not uncommon to need a little prep-work before making your denture, like tooth extractions.
Type of Base Materials: Your denture's base will be made of acrylic and customized to match your gum color. There are several types of material that can be used to fit your needs and budget.
Replacement Teeth Material: Your replacement teeth can be made of porcelain or acrylic, which have separate costs.
We will discuss each step in your treatment, so you aren't caught off guard by any surprising fees.
Are Implant Dentures More Expensive?
As an alternative to traditional dentures in Norman, many people choose to stabilize their new teeth with dental implants. It's true they cost more upfront; however, they are the most cost-effective long-term because they can last for decades with the right care. You won't need to worry about paying to have them replaced every few years, and you'll lower your overall oral health expenses. Not to mention, the benefits you gain can't be measured with a price tag. You'll regain the next best thing to your real teeth.
Does Dental Insurance Cover Dentures?
Every dental insurance policy is unique, but most plans offer some coverage for dentures to offset their cost. They are considered a major procedure, so the amount your insurance will pay varies depending on your policy. In most cases, after reaching your annual deductible, your benefits can pay as much as 50% of the cost until hitting your yearly limit. A member of our team will work on your behalf with your insurance company to maximize your coverage to lower your out-of-pocket balance.
Other Options for Making Dentures Affordable
We strive to keep our services affordable for all patients. Besides accepting dental insurance, we also offer several other payment options, including:
Traditional Methods: We accept cash, check, and most major credit cards.
Third-Party Financing: Based on your credit's approval, you are given the funds you need. You'll repay the balance using a plan that fits your budget.
Don't let the cost of dentures deter you from restoring your smile. We work with our patients to improve their oral health while keeping their treatments affordable. Contact our office today to schedule your consultation for dentures.
Dentures FAQs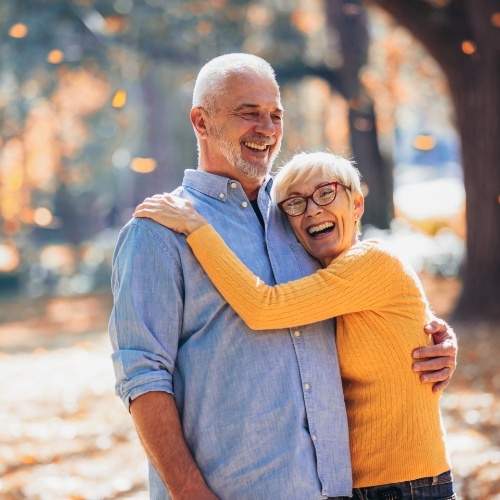 Now you know more about the benefits, process, and cost of dentures in Norman! With that being said, it's natural to still have a few questions on your mind. To help make finding the answers as easy as possible, we've responded a few of the most commonly asked questions below. However, if you'd like to speak directly with our team, don't hesitate to contact our office.
Q Will Dentures Change How I Speak?
To enunciate words properly, your tongue makes a series of distinct movements against the back of your teeth. Therefore, one of the consequences of missing several or an entire arch of teeth is the inability to speak clearly. Fortunately, dentures can fill the gaps in your mouth, effectively restoring your speech. While it may take a few days to adjust, reading a book out loud and repeating the more difficult words over and over can make the learning curve less cumbersome.
Q Do I Still Need Checkups If I Don't Have Any Natural Teeth?
Absolutely yes! The idea that no teeth means no dentist is simply a myth. After all, even if you are missing several teeth, your mouth is continuing to evolve. At your biannual visit, Dr. Carmen will conduct a thorough dental exam, check that your oral cavity is in good condition, take X-rays as needed, and answer any questions you have about caring for your dentures. That way, you can go into the next six months with full confidence that your new and improved smile is in tip-top shape!
Q What Should I Do If My Dentures Are Loose?
Since dentures aren't able to prevent bone loss, you may notice your once-snug dentures are starting to become ill-fitting. That's why your routine dental appointments are so important! By bringing your dentures with you, our dentist can adjust them as needed to prevent uncomfortable slipping. If you begin to notice movement between visits, then don't hesitate to contact our dental team. From there, we can schedule a time to have your dentures relined, which typically can be completed the same day.
Q Should I Use Denture Adhesive?
Even if your dentures are secure thanks to natural suction, a denture adhesive can provide additional retention. However, it is important to remember that denture adhesive is not a solution for old, ill-fitting dentures. Using more than the recommended amount can be dangerous, and using loose dentures can result in irritation, difficulty chewing, impaired speech, and more. Therefore, if your denture begins to feel loose, schedule an appointment with our team before attempting to remedy the situation by adding on more adhesive.
You can trust us with your smile. Call today to reserve your denture consultation with Norman dentist Dr. Bobby Carmen. Patients from Norman, Moore, the University of Oklahoma, Central Oklahoma, and beyond visit us for quality dental care.