Dental Implants — Norman, OK
Regain a Complete, Confident Smile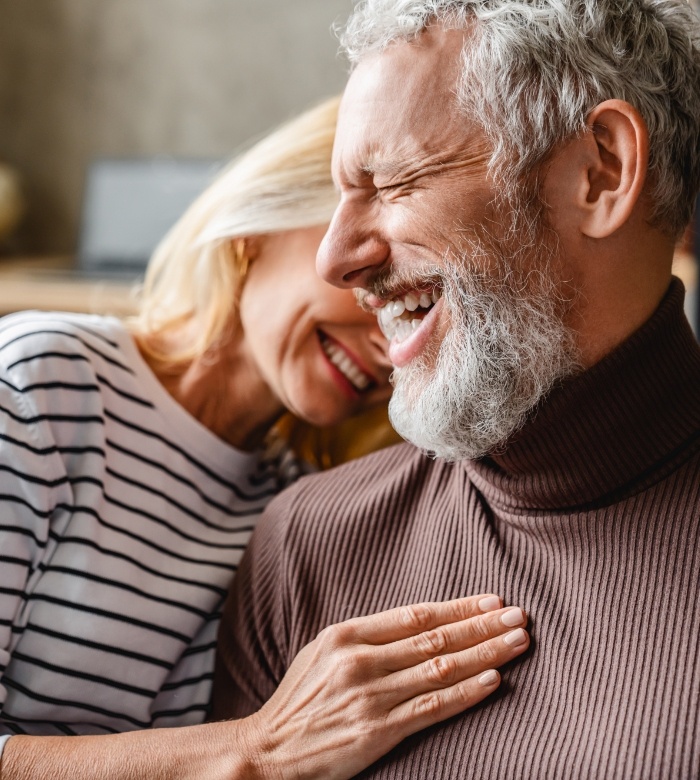 Are you one of the 178 million Americans who are missing at least one permanent tooth? If so, it's likely that some of your confidence and quality of life were lost along with them. Thankfully, Dr. Bobby Carmen can help you regain a complete, confident smile with dental implants in Norman! This state-of-the-art tooth loss solution allows you to replace your missing teeth with the next best thing by restoring the entire dental structure above and below the gumline. Read on to learn more about this life-changing treatment and give us a call today to schedule your consultation!
Why Choose Dr. Bobby J. Carmen, DDS For Dental Implants?
Dental Implant Placement & Restoration Both Performed In-Office
Permanently Replace Any Number of Missing Teeth Seamlessly
Dr. Carmen Is Highly Trained & Experienced in Dental Implants
What Are Dental Implants?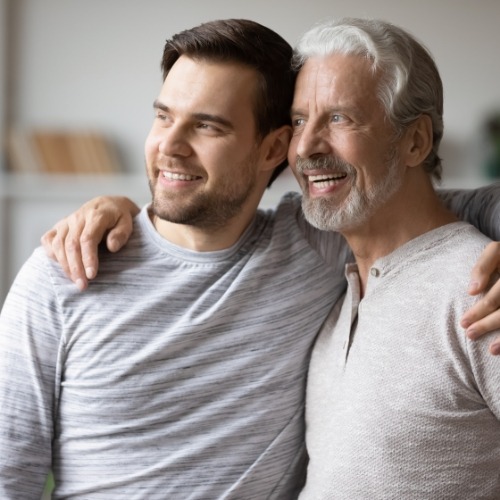 Your natural teeth are made up of two distinct parts: the visible crown that you see when you smile and the hidden roots that keep it in place. Traditional tooth replacement options like dentures and dental bridges only restore the crowns of missing teeth. Without a root structure to support these restorations, they tend to be far less comfortable, lifelike, and functional than natural teeth and can cause oral health complications. On the other hand, dental implants are designed to mimic all parts of a missing tooth.
A dental implant is a small titanium post that is placed into the jawbone to restore the root of a missing tooth. Titanium is a biocompatible material, so the implant post will fuse with the surrounding bone tissue to form a strong, reliable foundation. On top of the implant post, a custom-made restoration is secured via a small connector piece called an abutment. This final restoration could be a crown, bridge, or denture (depending on how many teeth you're missing) that blends in seamlessly with the rest of your pearly whites. When you rebuild missing teeth from the roots up, the end result is a smile that looks, feels, and functions just like natural!
The Dental Implant Process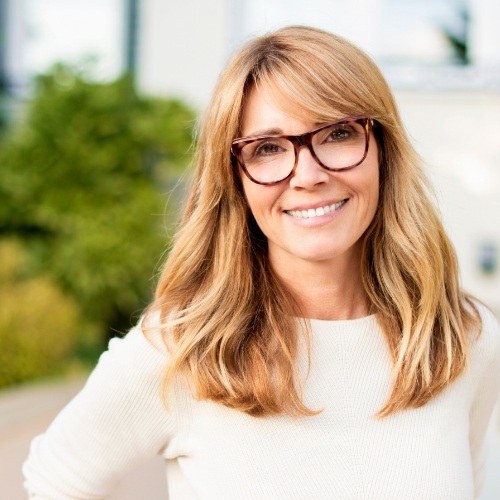 Dental implant placement and restoration takes place over the course of several treatment phases that are usually completed as follows:
Consultation: We review oral and overall health history, medications, etc. to determine the best treatment options.
Preparation: We remove damaged teeth, place tissue grafts, and provide treatment to deliver optimal oral health as necessary.
Implantation: The implant post is surgically positioned below the gumline by Dr. Carmen.
Osseointegration: The implant fuses to the gum and bone tissue over the next several months, mimicking the lost tooth roots.
Restoration: Your dental crown, bridge, or denture is designed and affixed to the implant post, recreating your flawless smile.
Benefits of Dental Implants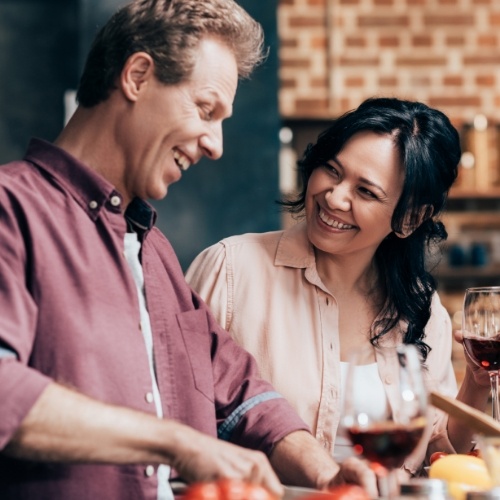 Dental implants are far different than any other treatment option because they replace both the root and crown of the tooth. This not only helps to preserve your bone's density, but also creates a secure and stable foundation for your replacement tooth.
Due to this unique process, dental implants offer exceptional benefits that are not possible with other options, including:
Long-Lasting Results:With the right aftercare, like maintaining your oral hygiene and regular appointments with your dentist in Norman, they can last for a lifetime.
Improved Oral Health:With the implant post stimulating your jawbone, it protects your remaining natural teeth to keep them securely in place. In addition, they do not rely on the support of your adjacent teeth to keep them strong and healthy.
Look and Feel Natural:With your jawbone fused to the post, they will closely look and function like your natural teeth.
Who Dental Implants Can Help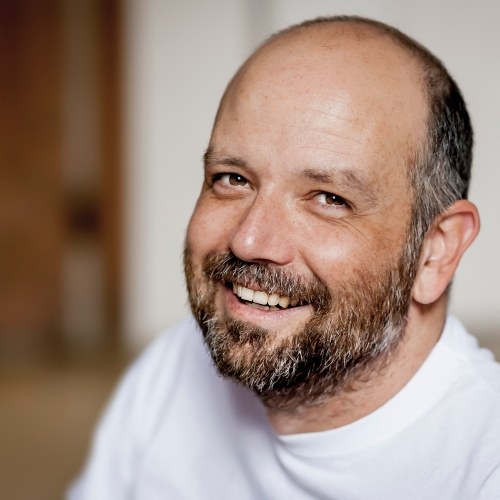 We recognize that all of our patients are unique, so Dr. Carmen always begins with a consultation to evaluate your needs so he can recommend the best treatment for you. Having said that, implants provide multiple benefits over other replacement options and are a great choice for many people. Dr. Carmen will create a custom treatment plan for you depending on how many teeth you're missing.
Missing 1 Tooth
When a single tooth is lost, an implant post will be surgically placed into your jawbone to replace the root. After several weeks, your jawbone will be healed, allowing an abutment to be placed on the post. This acts as a connector to allow a custom-made crown to be attached. It will be made to match the size, shape, and color of your remaining teeth to blend in when you smile.
Missing Multiple Teeth
If you are missing several teeth in a row, each one will not be replaced individually. Instead, a bridge of prosthetic teeth is created to fill the empty space. Dental crowns are not placed on the adjacent teeth to hold it in place. As an alternative, an average of 1 or 2 implant posts are used to anchor it to your jawbone.
Missing All Teeth
With dental implants, you can say good-bye to the disadvantages of traditional dentures. An average of 4 implant posts will connect your denture to your jaw. You will not have to worry about any slipping or irritation while also enjoying an increased biting force of over 70%.
Learn More About Implant Dentures
Understanding the Cost of Dental Implants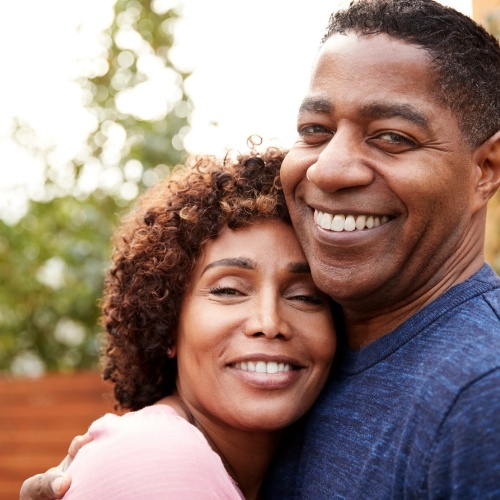 Easily the most frequently asked question about dental implant restoration is, "What does it cost?" While there is a significant investment of time and money on the front end of dental implant placement and restoration, the results will last for decades compared with other tooth replacement solutions that need to be repaired or replaced every five to seven years on average.
Our knowledgeable dentistry team works with dental insurance providers and third=party financiers regularly, so we can maximize your insurance coverage and help you get low- or no-interest financing plans. Call our team to schedule a consultation to find out more. We'll examine your smile, answer your questions, and help you find a tooth replacement solution that fits your budget.
What Influences the Cost of Dental Implants?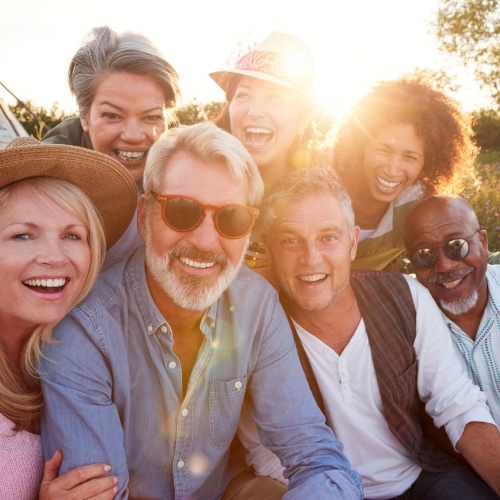 One dental implant without the cost of placement or the restoration (replacement tooth) can cost anywhere between $500 and $2000. This price is based largely on the material used to craft the implant post and the size of the implant. In addition to the cost of the implant itself, you also need to consider the price of surgical implant placement, attaching the connective abutment posts, designing and creating a tooth replacement, and the connection of the replacement tooth or teeth to implant posts.
A single dental implant supported crown can cost $2000 to $5000 or more in rare cases, and advanced tooth replacement options only go up from there. However, it's important to remember you're paying for a semipermanent solution. You won't need to replace dental implant restorations every few years. Most patients keep their implant supported restoration for two or more decades.
Dental Insurance Coverage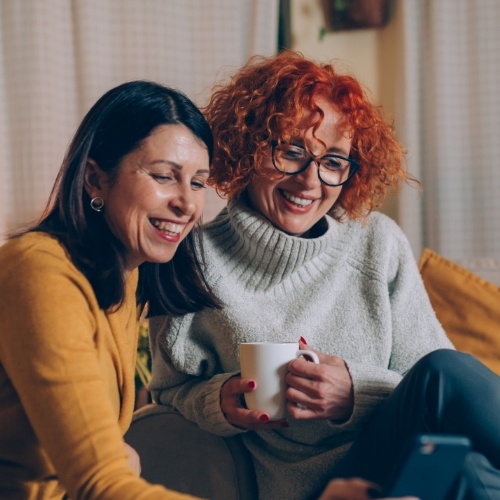 In most cases, dental insurance still doesn't cover implants. However, some benefit plans have started to include these restorations, and we hope more will follow suit. We can typically use your dental insurance to cover part of the cost of your replacement tooth or teeth. We'll work with your insurance provider to maximize this coverage.
Flexible Spending Accounts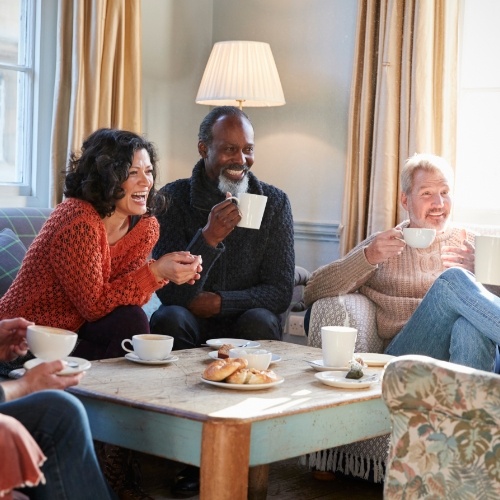 If you have a flexible spending account as part of your medical or dental insurance coverage, these funds can typically be put toward the cost of dental implants. If you plan to use your FSA funds, make sure you mention this, so we can receive preauthorization. We don't want you to have any unexpected costs.
CareCredit & Payment Plans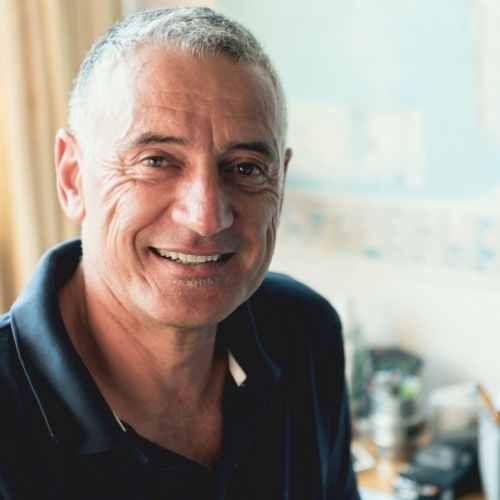 CareCredit is a third-party financier that works exclusively with medical and dental providers to give patients low and no interest payment plans for health care. CareCredit and other similar financial programs offer better rates than traditional creditors, and this is a great solution for patients who want to make the investment in a lifetime of healthy smiles, starting today with dental implant supported tooth replacement.
Dental Implant FAQs
If you're ready to replace your missing teeth with dental implants in Norman, it's normal to still have a few concerns about the road ahead. There isn't any reason to worry. We'll explain everything during your initial consultation. To help calm your nerves until your appointment, here are the answers to a few of the most common questions patients ask us about dental implants.
How Long Do Dental Implants Last?
Dental implants are the most reliable solution to treat tooth loss. They are proven to last for decades; however, their long-term success relies on several factors, such as having a qualified dentist perform the procedure. Your oral hygiene and lifestyle habits also influence the longevity of your new smile. It's best to brush your teeth at least twice a day and floss daily. You'll also want to add an antimicrobial mouthrinse to your oral hygiene routine to kill harmful bacteria. Don't forget to visit your implant dentist in Norman at least twice a year for a cleaning and checkup. You'll want to avoid anything that may compromise your smile, like smoking, excessive alcohol consumption, and sticky foods.
Do Dental Implants Feel Natural?
When compared to traditional prosthetics, like crowns and bridges, dental implants closely replicate your natural teeth. Your restorations will have the stability of your jawbone, so you'll never experience any slipping or irritation when enjoying your favorite foods. You can regain as much as 70% of your natural biting force, but it's best to avoid foods that are hard, sticky, or chewing to preserve your new smile.
How Soon After a Tooth Extraction Can I Get Dental Implants?
It's not uncommon for patients to need tooth extractions before their placement surgery. You'll need to wait for your sockets to heal before moving forward with your dental implant placement. It can take 3 to 6 months before you'll be scheduled for your surgery. If you wait any longer, your jawbone will begin to lose density because it isn't being stimulated by the roots. As a result, you might end up needing bone grafting, which will add another phase to your plan. In some cases, dental implants can also be placed immediately after your extractions. Every case is unique, so we'll discuss your options to determine when it's best to have your placement surgery.
Do I Need a Bone Graft Before Getting Dental Implants?
It's not unusual for patients to need bone grafting before their placement surgery, but it isn't always necessary. We'll review a CT scan of your bone to ensure there is adequate density to support your implant posts. If there are any areas that are weakened, we may recommend bone grafting. The procedure transplants bone from another area of your body, donor, or a synthetic to the treatment site. Your jaw will integrate with the graft to restore its strength. Although it may add another step to your treatment, a strong, healthy jawbone is crucial to the long-term success of your new smile.