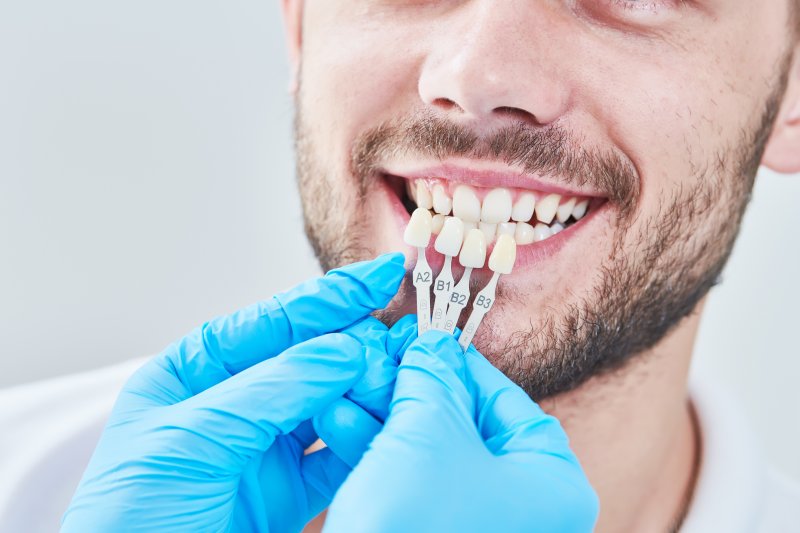 A wonderful smile has been proven to improve your life. A study conducted by the University of Manchester's School of Dentistry stated that a full set of white teeth increases peoples' quality of life because it increases their self-esteem. Veneers have allowed people to get that complete set of pearly whites and feel good about their smiles again! But appearances aren't the only important thing; a healthy mouth is essential, too. So, do veneers protect you from getting cavities? Your cosmetic dentist is here to tell you all about veneers and cavities.
Can You Still Get Cavities with Veneers?
In short, yes you can still get cavities with veneers. Ceramic restorations are made from inorganic material and therefore cannot develop cavities. But the natural teeth underneath them can still be harmed by decay. Veneers only cover the front, visible portion of the teeth. That means the back sides remain fully exposed to bacteria, plaque, and acids.
How Can You Protect Your Veneer-Supported Teeth?
While veneers are not capable of preventing cavities, they do serve an important purpose for both esthetics and the prevention of future damage (such as chips). This makes them incredibly important to take care of on a daily basis. Keep the following tips in mind:
Pay close attention to your restorations: The moment you notice something is not quite right with your veneers, call your cosmetic dentist. By doing so, you can spot and stop any potential issues as early as possible.
Use the right oral care products: Fluoridated toothpastes are essential due to their proven ability to reduce the risk of cavity development. Avoid products that are fluorite-free or are very abrasive–such as whitening toothpastes–as these can be harsh on the glossy surfaces of veneers.
Brush and floss daily: Dentists recommend brushing twice a day for at least two minutes at a time and flossing at least once a day with a high-quality waxed floss.
Stay on top of routine checkups: Exams and cleanings once every six months are crucial to catching problems before they take a turn for the worse, including old restorations.
Maintain a Healthy Diet: Implement a vitamin-rich diet to keep your teeth healthy from the inside out. Be sure to avoid biting into and chewing particularly hard foods.
Drink plenty of water: Besides being so good for you, drinking water throughout the day rinses away food particles and unwanted bacteria and acids from your teeth and veneers.
While veneers can give you a dazzling smile, they don't automatically make you cavity-proof. With these tips from your cosmetic dentist, you will keep your teeth shining white AND healthy!
About the Author
Dr. Bobby Carmen proudly serves the greater Oklahoma City area. He earned a mastership with the Academy of General Dentistry and is a member of multiple dental associations, including the American Academy of Cosmetic Dentists. Being a member of the ACD means that Dr. Carmen stays up-to-date with all the latest advancements in cosmetic dentistry, including custom solutions like veneers. To visit Dr. Carmen about your veneers or for other smile-enhancing treatments, contact him through his website or by phone at (405) 364-2200.