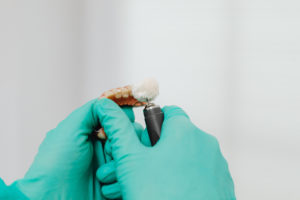 Dentures are a trusted solution to treat tooth loss. They are made of durable materials to withstand the pressure of grinding and chewing your food. Although they are strong, they aren't indestructible. Nothing can ruin your day quicker than a broken denture, but is it a dental emergency? Yes! You rely on your pearly whites for eating and speaking. Don't worry, here's how to get the repair or replacement you need quickly.
Causes of Broken Dentures
Your denture can break for several reasons, but wear and tear is a leading cause. Dentures last for about 5 to 7 years before needing to be replaced. Fractures are more common with older dentures because they have undergone years of stress cycles from chewing, temperature variations, and bacteria exposure.
Besides weakening of the materials, older dentures are also prone to breaking if they don't fit well. Tooth loss causes your jawbone to shrink slowly, which will change the shape of your mouth. Your denture won't adapt to the changes, which can cause them to move around in your mouth. This can create pressure points where your denture may crack. Not to mention, accidents can happen. Dropping or misplacing your dentures can cause them to break.
What to Do If Your Denture Breaks
If your denture breaks, don't panic! Remove your dentures and don't wear them until after you've seen a dentist. If possible, wear an older pair until your appointment. While you may not have time in your schedule for an unplanned dental appointment, don't try to fix your dentures using OTC repair kits, adhesives, or glue. Instead, leave the mending to professionals.
Your dentist will examine your denture and your mouth to determine if the prosthetic can be repaired or if you'll need a replacement. Minor issues are often repaired in-office, but if the damage is significant, your denture may need to be sent to the lab. If your denture hasn't been fitting well, you may need to have it relined or replaced.
Your dentist may also recommend an implant denture. Implant posts are surgically placed into the jawbone to replicate roots and stabilize your denture. It's the only tooth replacement method to stop bone loss. With the implant posts set securely in the bone, your denture will never slip or move around in your mouth. You'll regain 70% of your natural biting force, and you'll never have to worry about replacements again. Dental implants have over a 95% success rate and are proven to last for 30 years or more.
Contact Your Emergency Dentist
Don't wait to contact an emergency dentist if your denture is damaged. They'll create the personalized strategy you need to restore your beautiful smile quickly.
About Dr. Bobby J. Carmen
Dr. Carmen was selected for the United States Navy's Health Profession Scholarship Program and completed his general Practice Residency at the Naval Dental Center as a Lieutenant. He has completed thousands of hours of continuing education to provide advanced services, like emergency dentistry. If you need a dentist in a hurry, contact our office today for an appointment.