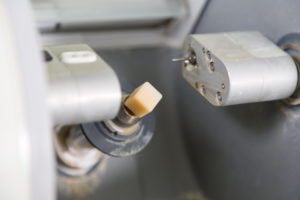 Do you have a damaged tooth that needs protection? A traditional crown can likely reinforce your tooth, but it will take time to design, craft, and place in your mouth. In fact, the entire process can sometimes take up to three weeks! Fortunately, advanced technology has opened up a faster way to restore smiles. Keep reading to learn about the advantages of CEREC crowns in Norman and discover if you are a good candidate.
What Is a CEREC Crown?
CEREC stands for "Chairside Economical Restoration of Esthetic Ceramics". This is a fancy name for the process of creating crowns with the aid of computer design and an in-house milling machine. Instead of sending impressions of your tooth to an outside lab, a CEREC machine enables your dentist to design and create a high-quality restoration in their office in a single visit.
How Is a CEREC Crown Made?
First, your dentist will use a small camera to make a three-dimensional digital model of your tooth. This highly accurate impression will be fed into the CEREC machine, which will use it to fabricate a crown from a small block of porcelain. Once the crown has been created, it will be glazed and color-matched in order to blend in seamlessly with your natural teeth. Finally, your dentist will attach the new CEREC crown to your prepared tooth. The entire process from start to finish typically takes one hour and can easily be accomplished in one dental visit.
What Are the Benefits of a CEREC crown?
The biggest advantage of CEREC crowns compared to traditional restorations is convenience. In just a single visit, you can strengthen your teeth and brighten your smile! You won't have to deal with the hassle of wearing temporary crowns or scheduling follow-up appointments. Other benefits of CEREC crowns include:
Natural-looking restoration crafted from porcelain
No trays or goop necessary to create tooth impressions
Better results thanks to improved treatment planning
Saved vacation days/sick leave
Reliable crown that lasts 10 to 15 years or longer
Are You a Candidate for a CEREC Crown?
You may be a good candidate for a CEREC crown in Norman if you have a tooth with structural damage, like cracks or chips. In addition, crowns can replace missing teeth by attaching to dental implants. If you need a root canal, your dentist may recommend placing a crown over the treated tooth to help block infection and protect against further damage.
Ultimately, whether you can benefit from a CEREC crown will depend on your unique situation. Don't hesitate to talk to a dentist if you have a damaged or missing tooth.
About the Author
Dr. Bobby Carmen has provided quality dental care for over 15 years and currently serves as the First Vice President of the Oklahoma Board of Dentistry. The proud University of Oklahoma College of Dentistry graduate offers a wide variety of restorative services at his private practice, including CEREC crowns. To learn more about the benefits of CEREC crowns in Norman, visit Dr. Carmen's website or call 405-364-2200.