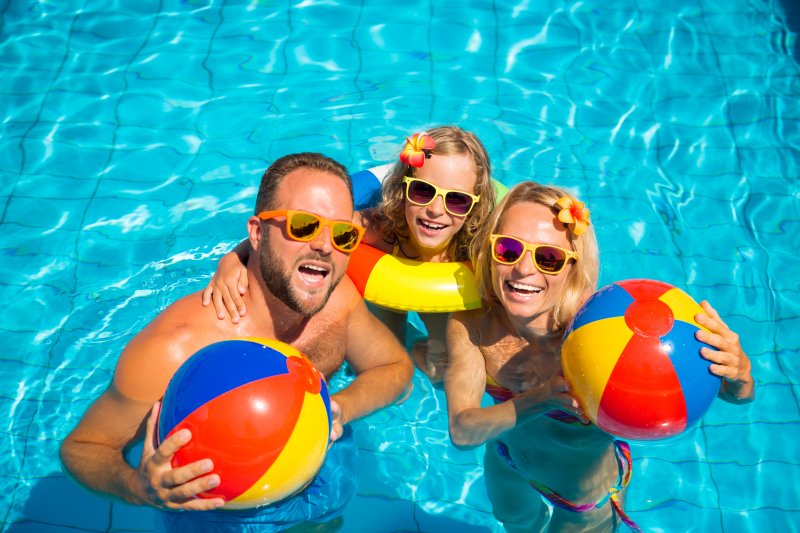 Now that summer has started, you probably want to ditch work or school and enjoy yourself. After all, this season has so many fun things to do. You can travel for vacation, attend concerts, play outside, and more! However, you should keep in mind that some summer activities can damage your teeth. If you're not careful, your fun in the sun could get ruined by cavities or gum infection. That said, work hard to protect your smile from these three seasonal offerings.
Swimming
Once the summer heat kicks in, you'll probably want to cool off in the local pool. Be careful, though — it could hurt your teeth.
You see, chlorinated water can erode tooth enamel due to its pH levels. While you probably don't swim with your mouth open, it can occasionally get onto your teeth. You should therefore check the PH balance beforehand— set it somewhere between 7.2 to 7.8 if possible.
Summer Sports
Besides a dip in the pool, summer sports can harm your smile, too — even so-called "non-contact" ones! For example, consider the following scenarios:
Baseball – Whether you're batting or catching, the ball might hit you in the mouth.
Biking or skateboarding – You could trip while speeding down the sidewalk, knock a tooth out, or cause other dental damage.
Flag football – It's very likely you'll run into or even collide with another player during a play. During these encounters, you may fall, get hit in the mouth by an errant pass, or worse.
Thankfully, you can prevent such incidents by wearing a mouthguard. Doing so would give your teeth a protective layer that shields them from harsh external forces.
Summer Treats
Summer is a time for ice cream, popsicles, snow cones, soda, and other cold and refreshing treats. Unfortunately, these things aren't great for teeth.
For one thing, they're high in sugar — a substance that erodes enamel when combined with mouth bacteria. Consequently, eating or drinking highly sugary things raises the odds of cavities, tooth decay, and infection.
These foods can also be painful for teeth sensitive to cold. Such soreness can stem from various things, including a previously unknown cavity and exposed tooth roots.
Still, you can have these items if you exercise moderation. For instance, try drinking soda with a straw to keep it from reaching your teeth. Also, you can reduce your teeth's sensitivity to cold with special toothpaste and by using a soft-bristled toothbrush.
Don't let your summer be a bummer for your teeth — be cautious around the activities above! That way, your beautiful smile will fit with the exciting events!
About the Author
Dr. Bobby J. Carmen is a dentist in Norman, OK. Since earning his DDS from the University of Oklahoma's College of Dentistry, he has continued to expand his dental knowledge and skills with thousands of hours of continuing education. Furthermore, he's studied at the Dawson Academy, Scottsdale Center for Dentistry, and the Misch International Implant Institute. Dr. Carmen currently practices at his self-titled clinic and can be reached at his website or by phone at (405)-364-2200.