September 3, 2021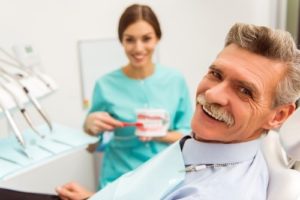 If you've lost all your natural teeth, you likely chose a full denture to rebuild a functional, beautiful smile. Although they are like your real teeth, they aren't vulnerable to tooth decay. That doesn't mean you can skip dental checkups with dentures. Instead, your home oral hygiene routine and regular care from a dentist are crucial to keep your mouth healthy and prolong the lifespan of your new smile. Here's why you should think twice about delaying your upcoming appointment.
Dental Checkups Keep Your Mouth Healthy
Your oral health consists of more than just your teeth. It also includes your gums, tongue, jawbone, and various other structures and tissues. Although your teeth are gone, you can still develop issues, like infection or cancer. Routine appointments with your denture dentist allow them to monitor your oral health to ensure there aren't any concerns lingering in your mouth.
Prolong the Lifespan of Your Denture
Modern dentures are more durable than ever. They can last for 5 to 7 years before needing to be replaced. You can make them last for as long as possible by visiting your dentist. Besides caring for your replacement teeth at home, they should be examined by your dentist regularly. They perform the necessary repairs to avoid a big problem down the road. Your dentist will also adjust them to enjoy a snug and comfortable fit.
Promote Your General Health
Your mouth is often referred to as "the gateway to the body" because your oral and general health are closely entwined. Research has linked certain dental issues to various medical conditions. Gum disease alone is known to increase the risk of cardiovascular disease, Alzheimer's disease, and respiratory infections. Not to mention, denture wearers are also prone to pneumonia. A quick checkup from your dentist can help you avoid factors that can compromise your oral and general health. They will also look for signs of potential health problems that might affect your smile, like acid reflux.
Enjoy a Comfortable Fit
Your jawbone will naturally change shape as the years pass, which means there will come a time when your dentures don't quite fit like before. They might slip, fall out, or irritate the soft tissues in your mouth. Research has found multiple health problems linked to ill-fitting dentures, like oral cancer and nutritional deficiencies. Routine dental care will allow your dentures to serve you for many years. They'll make the necessary adjustments to avoid slipping and irritation.
Although you might have lost all your natural teeth, make it a priority to visit your dentist at least once a year to maintain a healthy, functional smile.
About Dr. Bobby J. Carmen
Dr. Carmen earned his dental degree at the University of Oklahoma College of Dentistry and has completed thousands of hours of continuing education courses. He has extensive qualifications in many advanced areas of dentistry, like dental implants. If you're ready to replace your missing teeth or it's time for your next checkup, contact our office today for an appointment.
Comments Off on Do Denture Wearers Need Dental Checkups?
No Comments
No comments yet.
RSS feed for comments on this post.
Sorry, the comment form is closed at this time.