May 26, 2021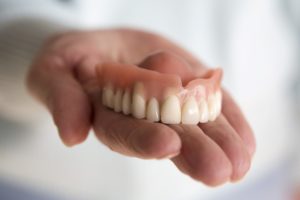 Dentures are a convenient and effective solution to restore an attractive smile after suffering extensive tooth loss. After receiving your new set of teeth, you want them to last for many years before needing to be replaced. Besides brushing and flossing, did you know soaking dentures nightly is also crucial to their longevity? Although no one wants to be caught without their teeth, here are 4 reasons you should give your dentures a good soaking while you're sleeping.
1. Your dentures can trap bacteria.
The base of your denture is made of acrylic. While it might look like a solid, it has numerous tiny pores. Although they may not be visible to the naked eye, the small caves can trap food particles and bacteria. Since your mouth is a moist environment, it creates the perfect breeding ground for bacteria to multiply. If the harmful pathogens on your denture aren't kept under control, it can lead to several complications, like gum disease and an unpleasant odor.
2. You're more prone to bacteria as you age.
Believe it or not, oral bacteria growth increases with age, so you'll be exposed to more infectious organisms over the years. Not to mention, it's common for older adults to experience dry mouth from certain medications. The lack of saliva production increases the potential for bacteria accumulating on your new teeth.
3. Your gums need time to rest.
After a long day of supporting your dentures, your gums need time to rest. Dentures can limit blood circulation to the soft tissues, causing them to be sore and tender if they aren't given a break. Removing your dentures allows your gums to recover to prepare for the next day.
4. Soaking is more effective than brushing.
Your dentist recommends brushing your dentures at least twice a day. While it's effective for removing bacteria and plaque, your toothbrush can't reach everywhere, like the small pores in the base. Nightly soaking is the only way to remove 99.9% of oral bacteria to keep your mouth healthy and ensure your dentures serve you for several years.
Tips for Cleaning Dentures
When you're ready to take your dentures out for the evening, handle your teeth carefully to prevent damaging them. Clean your mouth using a soft-bristled toothbrush to remove bacteria and adhesive residue from your gums. Carefully brush your dentures using a soft-bristled toothbrush and denture cleanser. Finally, store your dentures in water or a mild denture-soaking solution overnight.
By taking the time to thoroughly clean your dentures, you can wake up knowing your new teeth look their best to start your day with a healthy, beautiful smile.
About Dr. Bobby J. Carmen
Dr. Carmen achieved his dental degree from the University of Oklahoma College of Dentistry and went on to complete additional training in cosmetic, restorative, and implant dentistry. Supported by his extensive qualifications, he is a member of various dental organizations, including the American Academy of Cosmetic Dentistry. If you're ready to enjoy a complete smile again, contact our office to schedule your consultation for dentures.
Comments Off on 4 Reasons to Soak Your Dentures at Night
No Comments
No comments yet.
RSS feed for comments on this post.
Sorry, the comment form is closed at this time.