February 26, 2021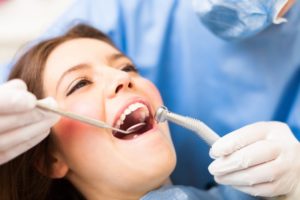 February is American Heart Health Month, which is a time that medical professionals have set aside to raise awareness about the importance of proper cardiovascular care. There is a little-known connection between heart and gum health. Continue reading to learn about the relationship and to receive 5 tips on how you can protect your heart through proper dental care.
It Starts with the Gums
It should be known that oral bacteria are always present in your mouth. However, when you eat or drink, they become especially active. The bacteria feed on any leftover particles and if allowed to linger, hundreds of different types combine to form plaque, a sticky and acidic substance.
If ignored, plaque buildup can eventually cause gum inflammation (gingivitis), which is the first stage of gum disease (infection). Untreated, the infection can cause permanent damage to the connective tissue beneath the gum line and even tooth loss. The problems don't stop there. Bacteria are like nomads – always on the go – looking for the next meal. The infection can make its way to the heart, which can contribute to clogged arteries, cardiac arrest and heart disease.
5 Ways to Protect Yourself
The good news is there are ways to fortify your gum and heart health. Here are 5 tips worth noting:
#1 – Brush correctly
To thoroughly clean your teeth, brush for at least two minutes. This will allow you to agitate and remove debris and bacteria that accumulate throughout the day. For the best results, you can brush after each meal.
#2 – Floss consistently
While toothbrushing is certainly an integral part of your dental care, it isn't enough by itself. Incorporating flossing into your regimen will be a game changer. The flexible material allows for cleaning the tight spaces between your teeth where bacteria and plaque hide.
#3 – Avoid tobacco usage
Whether tobacco is chewed or smoked, it takes a great toll on teeth and gums. When used, harmful toxins are released that encourage bacteria growth. Furthermore, tobacco usage can have a direct effect on heart and lung health. To be safe, it's best to avoid its usage in any capacity.
#4 – Know your risks
Based on your age, diet and genetics, you can be more susceptible to developing gum disease. This is something you'll want to discuss with a dentist. The more you share about your family health history, the better care the dentist can offer.
#5 – Visit a dentist regularly
Being proactive and visiting a dentist every six months for cleanings and checkups will do wonders for your dental health. In turn, it will help to boost your heart health. That's because any developing issues that could indirectly affect your heart can be spotted and treated before they become bigger problems.
Because Valentine's Day is in February, it's known as the month of affection. By taking care of your mouth, teeth and gums, you'll be showing your heart some major love!
About the Author
Dr. Bobby J. Carmen earned his dental degree from the University of Oklahoma College of Dentistry. A consummate learner, he has taken several hours of continuing education, and he has received advanced training from the Dawson Academy and Scottsdale Center for Dentistry. Dr. Carmen provides preventive and restorative gum treatment at his private practice, and he can be reached for more information through his website.
Comments Off on 5 Ways Excellent Gum Health Can Protect Your Heart
No Comments
No comments yet.
RSS feed for comments on this post.
Sorry, the comment form is closed at this time.