January 1, 2021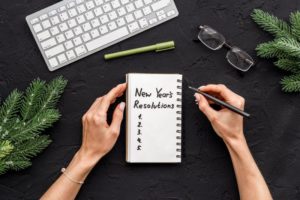 Now that January 1st has arrived, you automatically feel renewed energy and hope. It's a great time to set your new intentions in motion. If you're looking to make improvements in your dental health, it starts with having the right plan. As you continue reading, discover how to make your New Year's resolutions for healthy teeth and gums a reality!
Visit a Local Dentist
You can accomplish a great deal by visiting a dentist. Your appointment will start with a thorough cleaning, which will remove built-up plaque and tartar that could develop into gum disease and a host of other issues. Additionally, you'll undergo a complete examination, which will include X-ray photos being taken that will identify any hidden problems, like breaks, diminished jawbone mass or signs of gum infection. This will also be an excellent opportunity to increase your dental IQ, as you'll be able to ask any questions you may have.
Step Up Your Dental Hygiene
Maybe you could stand to make some improvements in the dental hygiene area. If so, this is the perfect time to commit to some new habits. Take a look at how often you brush your teeth. Be sure you're cleaning them at least two times a day. And don't overlook flossing, as it should be done with every toothbrushing session. However, if you haven't been flossing at all, committing to doing it at least once a day will make a great impact on your dental health.
Don't Procrastinate on Receiving Restorative Care
Do you have a lingering cavity or a broken tooth that needs to be repaired? The sooner you take action to have your dental health restored, the lesser your chance of having to endure a painful dental emergency. As an added bonus, being more proactive will help you avoid higher out-of-pocket costs.
Cut Back on the Sugar
It's no secret that processed sugar can negatively impact your dental health. The leftover particles attract oral bacteria that can lead to plaque growth, tooth decay and gum disease. To be on the safe side, limit your consumption of candy, sodas, juices, pastries and alcoholic beverages.
Find Healthier Alternatives
In addition to cutting back on the simple sugars, incorporate more natural foods, like fruits and vegetables, into your diet. Fruits are especially effective at satisfying sweet cravings, without delivering the negative side effects. The natural sugars they contain are far more forgiving, when it comes to your dental health.
The only thing left to do to ensure a healthy smile in 2021 is to execute. In doing so, you'll reap the full benefits!
About the Author
Dr. Bobby J. Carmen earned his dental degree from the University of Oklahoma College of Dentistry. To further ensure that he can meet the varied needs of his patients, he has received advanced postgraduate training from the renowned Dawson Academy, Scottsdale Center for Dentistry and other professional organizations. Dr. Carmen treats patients at his private practice, and he can be reached for more information or to schedule a visit through his website.
Comments Off on A New Year and New Approach to Your Dental Health!
No Comments
No comments yet.
RSS feed for comments on this post.
Sorry, the comment form is closed at this time.