January 12, 2021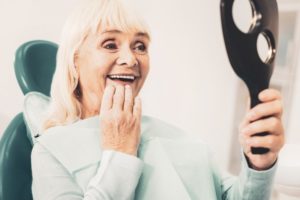 You need to replace your missing teeth, and you're considering dentures to do the job. Before committing, though, you'd like to know how long the process will take from start-to-finish. There are a few steps to the denture procedure. As you continue reading, you'll learn how they can impact the overall treatment time, so you can make an informed decision.
A General Timeframe
If you don't need any extractions, the denture process will typically take around three to four appointments to complete. Still, the time period for this can vary depending on your specific needs.
Extracting Teeth
If you need an extraction, you can expect the process to take longer. That's because the extraction site will need time to heal, which can take several months. Additionally, the size of the treatment area will play a significant role in the healing time. Once the gums are healed, the dentist can proceed with making the dentures.
Getting Started
There are a few steps involved in making a complete set of dentures. Here's how the dentist will proceed:
Impressions will be made of the ridges in your mouth.
Special measurements will be taken to ensure your bite pattern is correct.
A wax mockup of the prosthetic teeth will be created.
The model will be sent to a lab for fabrication.
Next, there will be a series of appointments for adjustments. The dentist will make slight changes to the mockup until its determined that the dentures will fit properly and match your facial features. If the prosthetics aren't made with the right length and width, they can create an unnatural look.
Denture Placement
After the final adjustments are completed, the dentist will place the dentures in your mouth. Often times, more adjustments will need to be made, as the ultimate goal is to have a comfortable and functional fit. Otherwise, sores can develop from ill-fitting dentures.
How Immediate Dentures are Different
In some cases, a patient can't be without teeth for long periods of time. A set of immediate dentures will help to prevent the cheeks collapsing and more rapidly restore the ability to eat normal foods. The process is a little different because the impressions and models are made while any natural teeth are still present.
With the replacement prosthetics already made, the dentist will extract the remaining natural teeth just before placing the denture. While immediate dentures provide a faster completion time, they require extra aftercare attention.
To get a better idea of how long the denture process will take for you, pay your local dentist a visit. Based on your needs, he or she can create a custom treatment plan and timeframe for completion, so you can get back to leading a normal and healthy life!
About the Author
Dr. Bobby J. Carmen is a graduate of the University of Oklahoma College of Dentistry. A lifelong learner, he has completed the necessary postgraduate coursework to earn Mastership Status with the Academy of General Dentistry. Dr. Carmen uses his vast knowledge and years of experience to replace missing teeth with dentures at his private practice. To learn more or to schedule an appointment, visit his website.
Comments Off on I Need Dentures – How Long Will It Take to Get Them?
No Comments
No comments yet.
RSS feed for comments on this post.
Sorry, the comment form is closed at this time.