December 29, 2020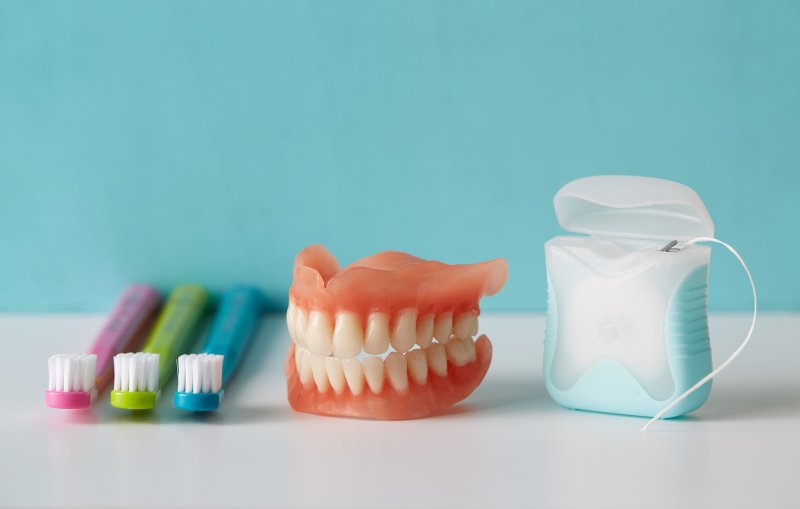 When it comes to replacing several teeth or an entire arch, dentures are one of the most tried and true options available. Not only are they cost-effective, but they are more lifelike and comfortable than ever before. Plus, they can last 10+ years with proper care! To ensure your new and improved smile lasts as long as possible, read on to learn the top four best practices for caring for dentures.
#1. Brush Your Dentures Daily
Like your natural teeth, your dentures rely on a solid brushing routine to stay free of bacteria, plaque build-up, and food particles. So, make sure to clean them each evening with a soft-bristled toothbrush and non-abrasive toothpaste. That way, they can provide you with a full smile, stronger bite, and enhanced speech for as long as possible.
#2. Soak Your Dentures Overnight
Although you can wear your dentures morning and night, it's best to give your gums (and your dentures!) a rest. Before you get into bed, place your dentures into a glass of water or denture-friendly cleaner to preserve their shape and keep them clean. In the morning, they will be fresh and ready for whatever the day holds.
#3. Always Handle Them With Care
The last thing you want is for your dentures to split in two or shatter into multiple pieces. After all, a replacement can take weeks to make, leaving you back at square one. To prevent this from happening, wash them over a sink filled with water. That way, if you accidentally drop them, the water will break their fall. It's also a good idea to transport them in a special caring case or soft towel to keep them safe.
#4. Schedule Regular Dental Checkups
Whether you have a few natural teeth left or none at all, your routine dental appointments are equally as important. Not only do these visits give you an opportunity to ask your dentist any pressing questions you have, but it also allows your dental team to check the condition of your dentures. If they have become loose, they can adjust them for maximum comfort and minimal movement.
When it comes to maintaining your dentures, a proper oral care routine is crucial. Fortunately, the above tips can help you prolong the lifespan of yours so you can get the most out of your new and improved smile!
About the Author
Dr. Bobby J. Carmen's impressive career in dentistry began after he earned his dental doctorate from the University of Oklahoma College of Dentistry. Since then, he has studied at the prestigious Dawson Academy, achieved a Mastership in the Academy of General Dentistry, and become an active member of multiple reputable organizations (including the American Dental Association). While his resume certainly is remarkable, it's his calming chairside manner and genuine care for his patients that make him truly one of a kind. So, if you are considering dentures in Norman, don't hesitate to visit his website or give him a call at 405-364-2200.
Comments Off on 4 Tips to Properly Care for Your Dentures
No Comments
No comments yet.
RSS feed for comments on this post.
Sorry, the comment form is closed at this time.