September 11, 2020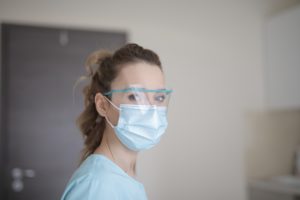 Amid the COVID-19 pandemic, patient safety is a top concern for your dentist. Although dental offices are already some of the cleanest places, your dentist is going the extra mile to ensure a clean, safe environment. To highlight the importance of keeping patients safe, September 17th is dedicated as International Patient Safety Day. Dr. Bobby J. Carmen strives to deliver peace of mind, so you feel comfortable visiting the dentist during the coronavirus crisis. He has updated his dental safety protocols to ensure our office follows the latest CDC guidelines.
Guidelines for Dental Settings
Dental offices maintain the highest standards for infection prevention and control, even before COVID-19 affected the United States. Dental offices have unique characteristics that require specific infection control considerations to minimize any harm or potential exposure to patients. To help combat the spread of coronavirus, our office has updated our safety protocols to include:
Social Distancing
Social distancing is essential to stopping the spread of the virus, which is why we've revamped our waiting room and clinical area to reduce patient contact with one another. Besides scheduling fewer patients each day, we've also implemented barriers in areas where you might be in close proximity with others, like the receptionist's desk.
Personal Protective Equipment
Gloves and face masks are more important than ever, especially when in a setting when social distancing isn't possible. Our dental team will utilize personal protective equipment to reduce the risk of cross-contamination. We recommend wearing your own mask while in our office; however, we ask you to leave any gloves outside of our office to prevent spreading harmful pathogens.
Dental offices take pride in cleanliness, but now they are going a step further to ensure a germ-free environment. Our office is scheduling fewer patients each day, which gives us more time to clean between appointments. You can rest assured our office will be the cleanest place you visit during the day.
Clean hands are one of the best ways to protect yourself and others from spreading coronavirus. Besides washing your hands with soap and water, we've also added hand sanitizing stations to combat germs. Alcohol-based hand sanitizer is available throughout our office to reduce cross-contamination.
Our staff will perform daily health checks to ensure they aren't exhibiting any signs of illness. In addition, we'll ask our patients a few brief questions to ensure they are feeling well. If you have a fever or show any signs of illness, we ask you to contact our office to reschedule your visit.
Choose Safe Dental Care
As the country reopens, you can feel confident knowing your dentist is doing everything possible to keep you safe. If you have any questions about our safety standards, contact our office to speak with a member of our team.
About Dr. Bobby J. Carmen
Dr. Carmen specializes in cosmetic, restorative, and implant dentistry to help his patients achieve their best smiles. He takes patient safety seriously, which is why he's updated his safety protocols to help stop the spread of COVID-19. If you need an appointment, contact our office today.
Comments Off on Your Dentist Celebrates International Patient Safety Day
No Comments
No comments yet.
RSS feed for comments on this post.
Sorry, the comment form is closed at this time.